At its NOIDA campus, IIM Lucknow offers a two-year Post-Graduate Programme in Management for Working Executives (PGPWE), previously known as Working Managers' Programme (WMP). The PGPWE is a uniquely designed program for working executives, entrepreneurs and professionals, who desire to enhance their managerial knowledge and skills through formal management education while continuing to work full time in their ongoing professions/businesses.
On successful completion of the program, the student gets an MBA degree.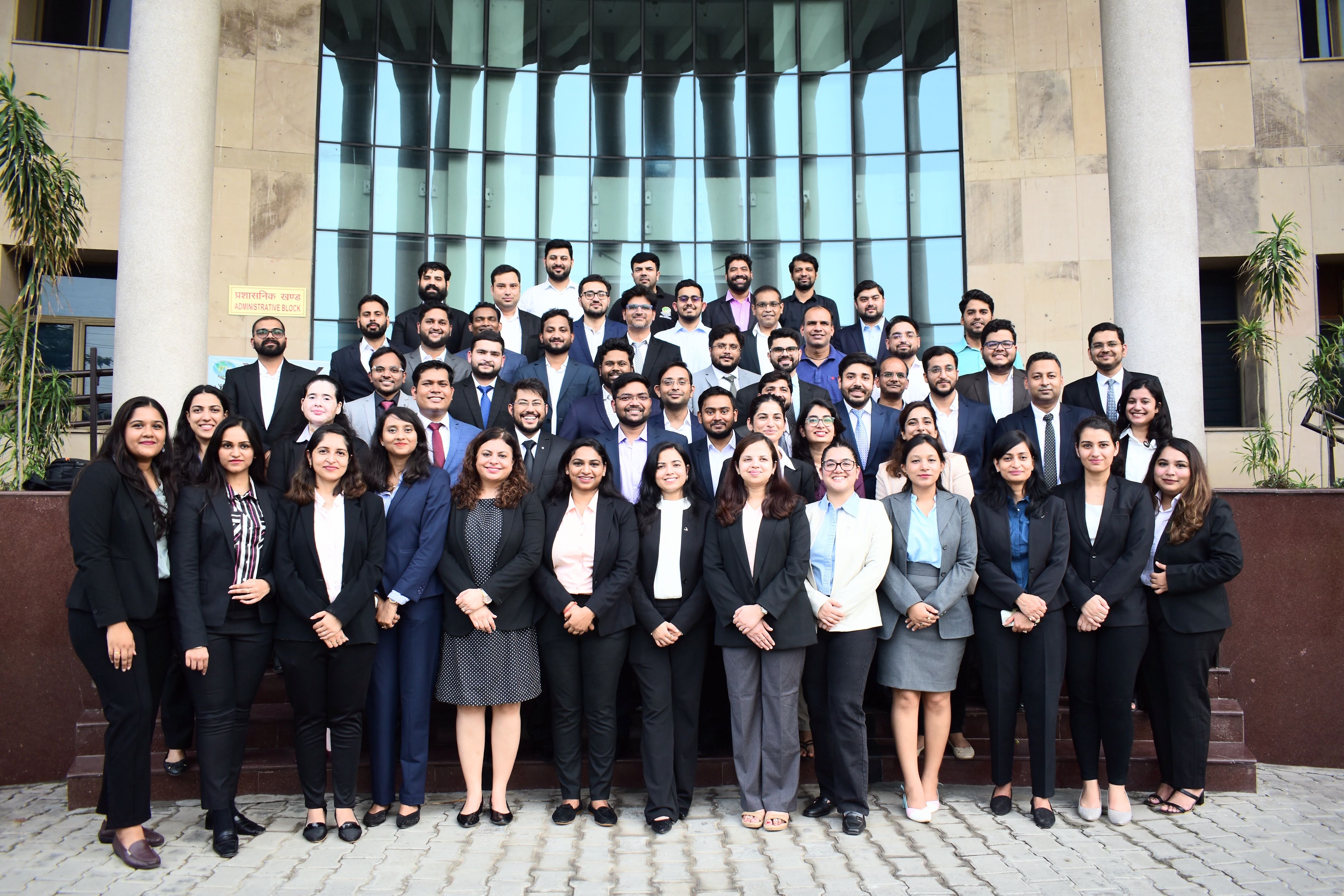 The program is structured to meet the learning needs and methodologies in such a way that one can continue to work and engage in formal education simultaneously. The program maintains the high standards and rigor as in all postgraduate programs in management at IIM Lucknow. It aims at developing strong conceptual fundamentals and skills required to manage businesses of the future. The PGPWE helps to inculcate leadership amongst participants, and foster the development of change agents to take top roles in the global business arena.
After the inception of PGPWE in 2005, fourteen batches are graduated. PGPWE alumni today are serving with distinction in senior business positions across the globe and playing the influential roles in their organizations.
Objectives of the Programme:
To develop an understanding of knowledge and skills in key functional areas
To integrate and apply business knowledge
To develop a global perspective
To assimilate diverse knowledge from experienced peer groups
To master critical analysis and integrate theory and practice
To focus on general management and leadership skills from a senior management perspective

PGP-WE is a two-year program; the first year consists of four terms and the second year consists of three terms. Students come to IIM Lucknow, NOIDA Campus on Friday afternoon and go back on Sunday afternoon, every alternative weekend. Each term has 7 visits distributed over 3 months period, approximately. The details of the courses covered are given below:
First Year

Term-1
(3.75)

Term-2
(3. 75)

Term-3
(4.00)

Term-4
(4.00)

Financial Reporting and Analysis
(1.00)

Operations Management-I 
(1.00)

Quantitative Analysis for Management-II 
(1.00)

Financial Management 
(1.00)

Behavior in Organizations 
(0.75)

Marketing Management-I (1.00)

Management Accounting 
(1.00)

Management Information Systems
(1.00)

Quantitative Analysis for Management-I 
(1.00)

Designing Work Organization 
(0.75)

Human Resource Management 
(1.00)

Marketing Management-II 
(1.00)

Managerial Economics 
(1.00)

Macro-Economic Environment 
(1.00)

Indian Economy
(0.50)

Strategic Management- I
(0.50)

 

 

Communication for Management
(0.50)

Operations Management-II
(0.50)
Second Year

Term-5 
(3.50)

Term-6 
(4.00)

Term-7 
(5.00)

Leadership
(0.50)

Elective -1  
(1.00)

Elective -1 
(1.00)

Quantitative Analysis for Management­ Ill 
(0.50)

Elective -2  
(1.00)

Elective -2 
(1.00)

Strategic Management- II 
(1.00)

Elective -3 
(1.00)    

Elective -3 
(1.00)

Legal Aspects in Management 
(0.50)

Elective -4  
(1.0) 

Dissertation
(2.0)

International Module*
(1.00)

 
 
In parentheses, course credits are mentioned. One credit is equivalent to thirty hours of classroom contact hours.
Total Credits = 28.00 (Core = 18.00, Elective = 7.00, Dissertation =2.00 and International Module* = 1.00)
A wide basket of elective courses from all functional areas are offered to meet the specific career goals of the students. The functional areas are:
Decision Sciences
Finance and Accounting
Business Environment (Economics)
Marketing Management
Organizational Behavior and Human Resources
Operations Management
Information Technology and Systems
Strategy Management
Communication
General Management
Time to Complete the Programme
In the normal course, the program is completed in two years. However, students who fail to meet the prescribed minimum attendance or academic standards due to extenuating circumstances may be allowed two more continuous years if the PGP-WE Committee recommends so, and can complete the Programme in a total of four years (maximum overall duration).
Student Advisory Services and Corporate Interface Events
The Student Advisory Services helps prepare candidates to meet career goals and aspirations. The advisors would guide students on the choice of electives, events, and networking opportunities. Such assistance will help participants to springboard their careers and add substantial value to the organizations where they work.
*International Module is subject to revision of academic structure.
The fee for PGPWE: 2024 – 2026 is INR 11,00,000 + refundable caution money of INR 10,000 + Alumni membership fee of INR 5,000 + Taxes as per Government of India rules.
The fee would include tuition fee, computing and network fee, library services, books and Instructional resources.
Student shall additionally bear the cost of International Immersion fee including visa, travel, accommodation, and academic expenses for the module on actual basis.
Boarding and lodging expenses during campus visit shall be payable on actual basis at the prevailing rates. Hostel accommodation on twin sharing basis is limited and preference shall be given to outstation candidates.
The payment schedule is as below:
Payment Schedule
Amount to be paid
Last date of Payment
INR 70, 000
At the time of acceptance of admission offer.
INR 1,58,000
At the time of registration to the Programme in first week of April 2024
(including caution money Rs. 10000)+ Boarding & Lodging* (As per prevailing rates. Subject to revision.)
INR 1,48,000
At the time of start of Term 2
INR 1,48,000
At the time of start of Term 3
INR 1,48,000
At the time of start of Term 4
INR 1,48,000
At the time of start of Term 5
INR 1,48,000
At the time of start of Term 6
INR 1,47,000
At the time of start of Term 7 (includes Alumni Fee Rs. 5000)
At the time of giving offer of admission to an applicant, a last date of withdrawal will also be announced. Any withdrawal from the programme by that date will attract INR 7,000/- (plus taxes as per Government of India rules) as processing fee and the remaining amount will be refunded. If the withdrawal request comes after the date of withdrawal, no money will be refunded. After joining the programme, all paid fee installment amounts are non- refundable.
For further information, please contact
Admissions Office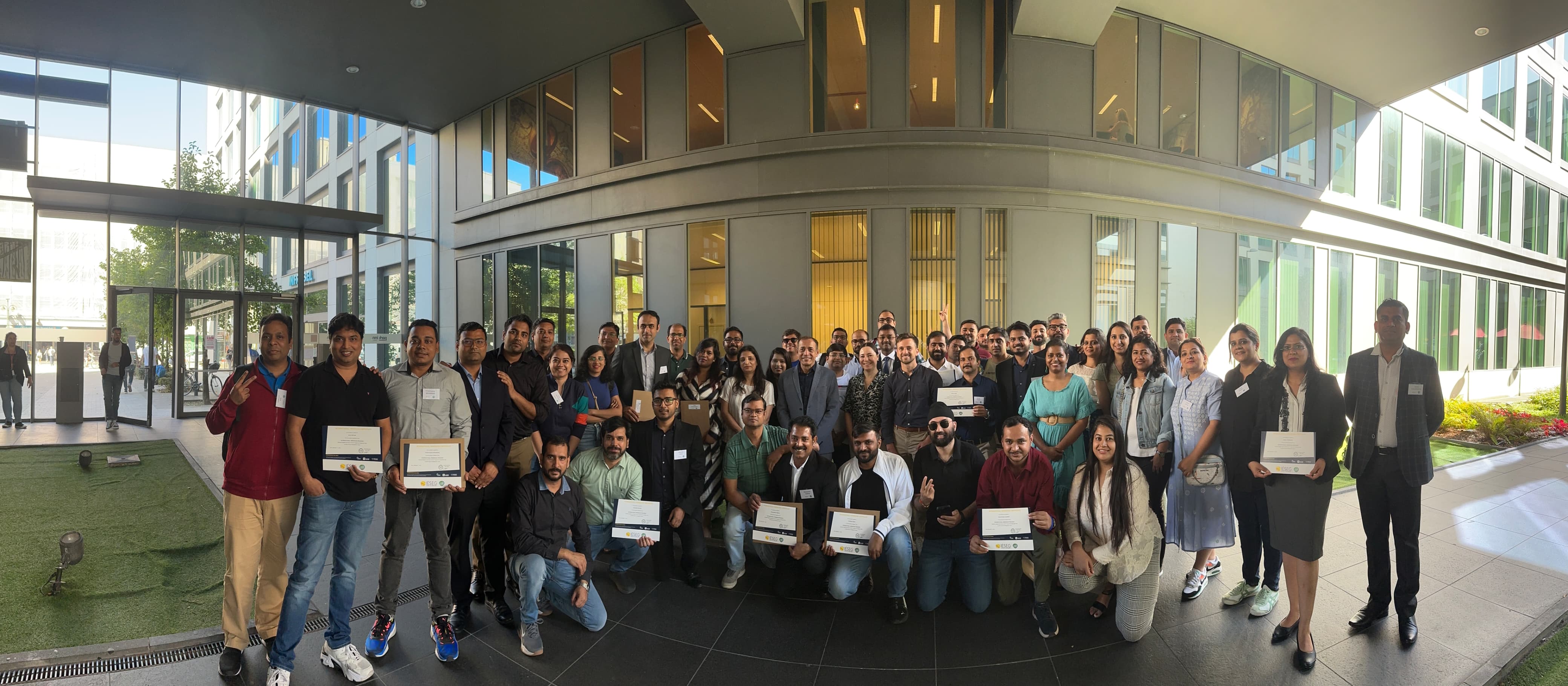 A two-week immersive experience at one of the leading business schools in Europe adds to the content of the program. The International Module is designed to enhance cross-cultural experience and broaden the understanding of global management challenges, where a deeper insight is obtained about business procedures in overseas markets. The International Module comprises academic courses, workshops, industry visits and interactions with industry leaders. The 18th batch of PGPWE visited IESEG School of Management in Paris, France for its international immersion. IESEG School of Management is a post-bac business school in France, established in 1964 in Lille. It ranks 32nd in the Financial Times Masters in Management Ranking and 9th in the best Masters in Management in French Business Schools ranking. The students leveraged IESEG's European identity to add critical insights to the business dimensions of international firms, cross-border mergers, and global workforce management, thereby empowering themselves with the tools needed to explore innovating means to collaborate and grow in a multi-cultural and multinational environment.
Admissions Office
Indian Institute of Management Lucknow, Noida Campus
B-1, Sector-62, Institutional Area
Noida 201 307 (UP) INDIA
+91-120-6678481
admission_nc[at]iiml[dot]ac[dot]in